Application & Technology Trends in E-mobility
The trend towards electrification of mobility is accelerating rapidly worldwide. From automobiles to electric mowers, from electric bikes to aircraft, massive development and commercialization efforts are underway — driven by the search for energy efficiency and pollution reduction.
What is E-mobility?
The specific term

e-mobility

generally refers to two-, three-, and four-wheel vehicles used for personal and light commercial activities. Almost all of these vehicle types are limited in their operating speeds to 45 or 50 km/h, so they cannot be driven on-highway. They are ideal for city commutes and deliveries. Requirements for energy storage and recharge times can vary widely, depending on the duty cycle and capacity of the vehicle. Most commercialized e-mobility vehicles today use lithium batteries, but the storage and charging configurations are many and varied.
Current trends in e-mobility

The forces shaping e-mobility are different around the world. In developing and highly populated countries, there is tremendous pressure to electrify vehicles that contribute greatly to greenhouse gas emission levels. Affordable mobility for a large population has historically been achieved with bicycles and small gas scooters and mopeds for individuals, and larger three-wheel rickshaws or small trucks for commercial applications.

Wealthier nations in Europe have similar concerns about pollution, narrow and crowded streets, and a culture of personal mobility. The electrification of personal transportation is accelerating rapidly. Small commercial vehicles are electrifying quickly as well.

North American adoption of e-mobility vehicles is largely contained to gated communities where golf cars and similar vehicles can be driven on-road. Metropolitan areas have seen the rise of vehicle-sharing services, bicycle-sharing services, and in some locations scooter-sharing services.


Many companies are working to build and market all these types of vehicles. As the cost of lithium batteries continues to fall, e-mobility will become more affordable and ubiquitous.


The regulatory landscape

Because e-mobility vehicles operate on public roads, they are subject to similar safety and operating regulations as their full-speed counterparts. European regulations are the most developed, with Category L vehicles covering several classifications from electric bicycles up to quadricycles. Safety and electro-magnetic compatibility regulations are in place or developing worldwide. Designers must be aware of the constraints.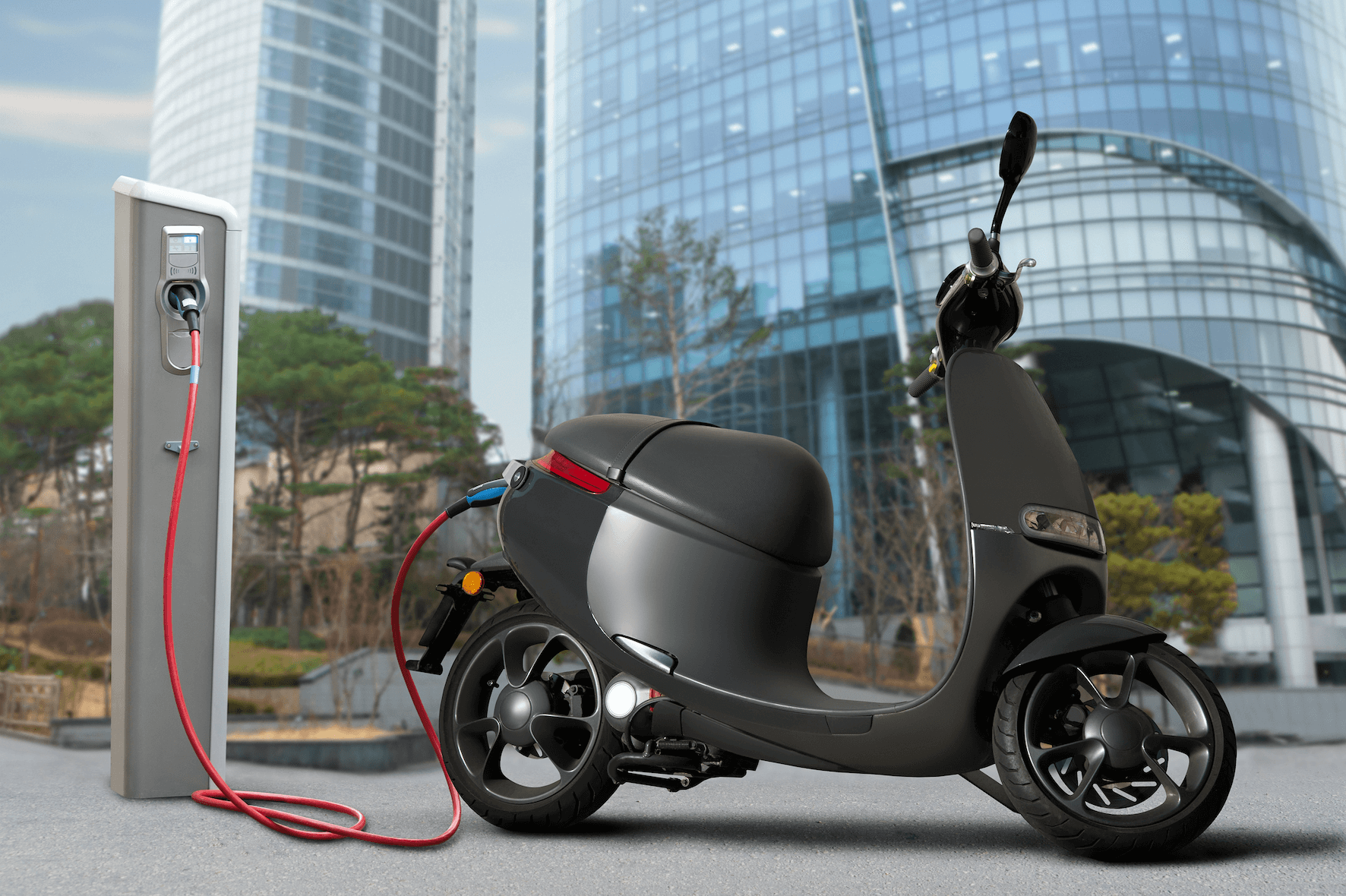 The evolution of battery chemistries
Power density or power-to-weight ratio is important to the performance of any vehicle. Gasoline or diesel have a tremendous energy density, which is why they have been popular for over a hundred years. Personal and small commercial mobility products were essentially unable to electrify with lead-acid batteries. Lead-acid batteries are simply too large and heavy to achieve the storage capacity desired for reasonable vehicle range. With the continued development of lithium battery chemistries and movement down the cost curve, it is now affordable to install a battery with sufficient capacity onboard a small scooter, moped, motorbike, or quadricycle.
The Total Cost of Ownership for an electric drive scooter with a lithium battery can now be compared very closely to a gas-powered scooter. Several different lithium chemistries are most appropriate for e-mobility vehicles, including Nickel Manganese Cobalt and Nickel Cobalt Aluminum Oxide. Lithium Iron Phosphate is more widely available, so is a great fallback option. Each chemistry should be assessed against a number of evaluation criteria, such as cost, safety, energy capacity, power output, and life span.
Trends in charging methods
It's more than just volts and amps. Incorporating the right battery charging solution for e-mobility vehicles is an important design consideration. Reliably returning energy to batteries in a safe, appropriate, and efficient way requires a deep understanding of how batteries react to charge and discharge. Even the smallest lithium battery packs require Battery Management Systems to ensure safety, and CAN bus communication provides significant operational benefits.
Larger e-mobility vehicles such as commercial quadricycles will generally have larger batteries due to increased vehicle weight, payload, and duty cycle. These vehicles can be configured to charge several ways:
Onboard chargers can be well matched to their battery packs and duty cycles, and allow for efficient opportunity charging and full charging when not in use — this is more possible with robust, sealed battery chargers that withstand the ingress of water and dirt
Offboard charging removes the weight of the charger from the vehicle but requires a regular return to a home base or charging station for charging
In the case of extremely high duty cycle, swappable battery packs can be used, with vehicles returning to a depot for swap-out
Smaller e-mobility vehicles such as mopeds, motorcycles, and small tricycles may need a completely different charging methodology:

For safety and loss prevention, as well as consistent access to electric power, removable batteries can be brought inside the home or office to connect to a charger for regular top-up
Swappable battery packs are available from a kiosk system—the user pays a small fee to exchange their empty battery for a fully recharged one at convenient locations
Rental customers will use a fully charged moped or scooter and return it to a charging station when done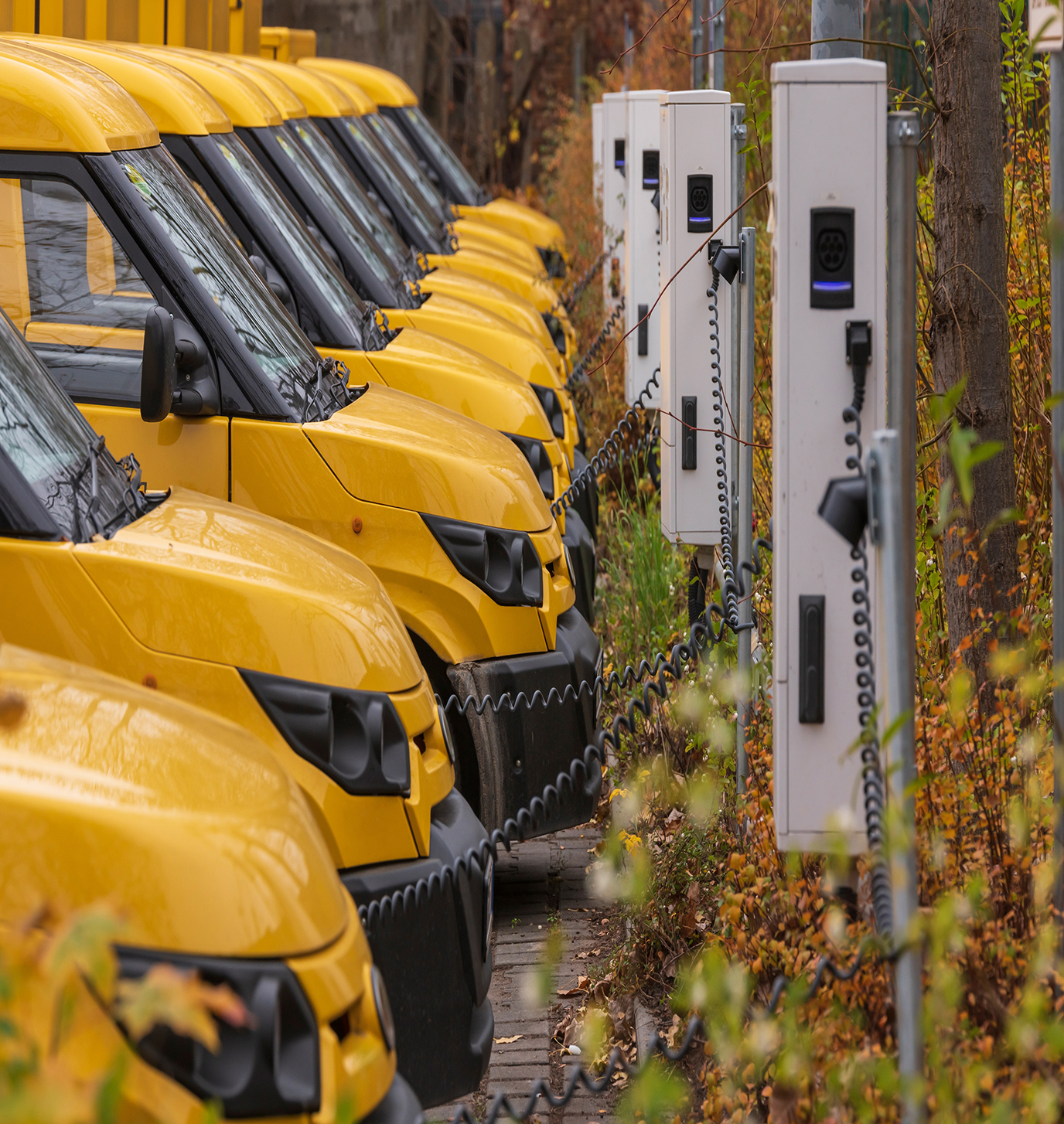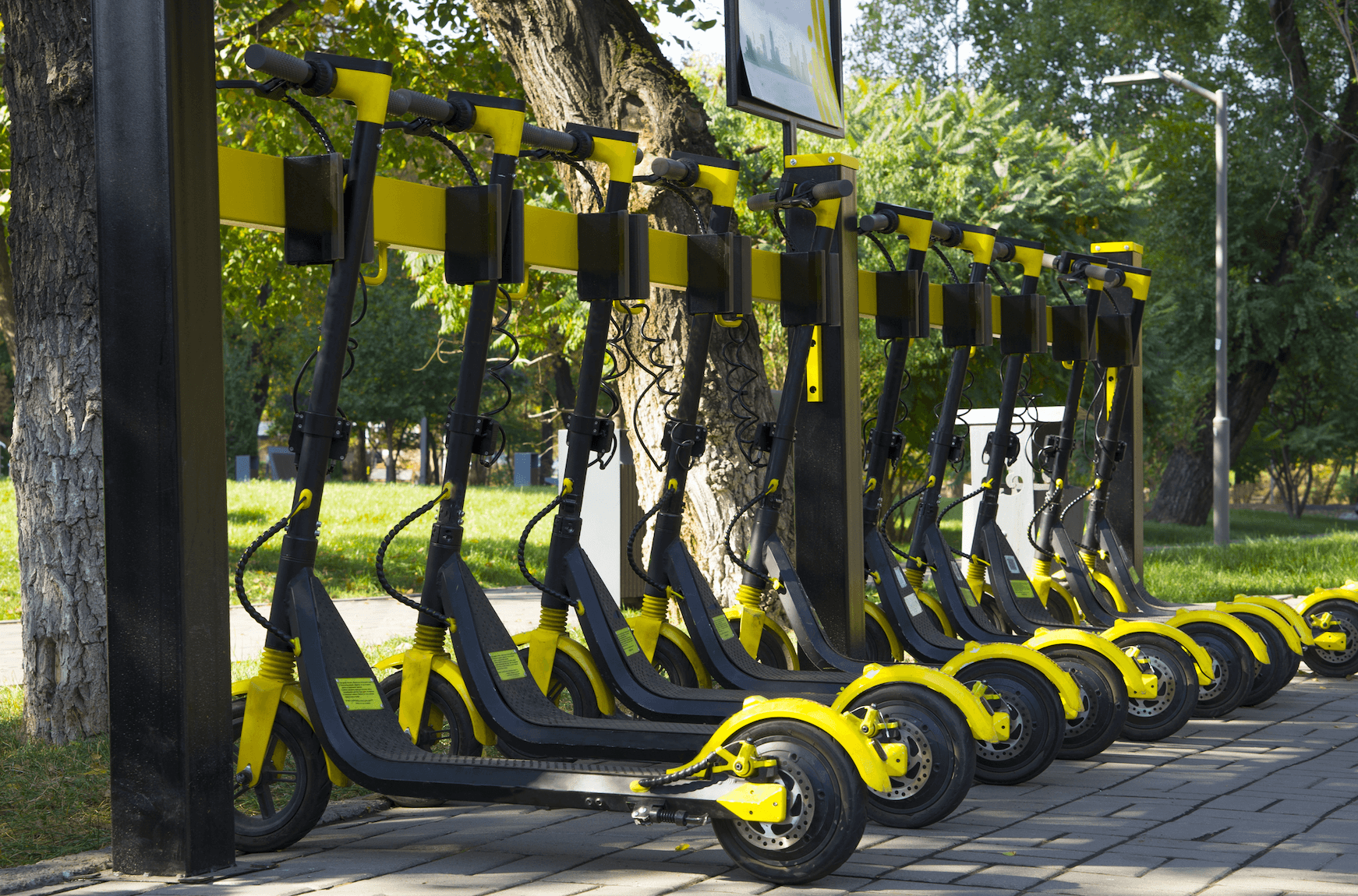 The future of e-mobility
Vehicle sharing is a popular and accelerating trend. Ranging from kick scooters to electric vehicles, these programs allow users access to mobility on demand without the up-front investment. Since 90% of a typical vehicle's life is spent parked, the concept of vehicle sharing makes tremendous sense societally. Through telematics, these vehicles are managed centrally and can report low battery conditions where corrective action is needed. Users can be incentivized to connect the vehicles to chargers when ending a rental so that the vehicles can be topped up.
In Taiwan, Gogoro's GoShare division has operated a battery swapping program for its electric scooters for several years, with one million battery swaps conducted in 2020. 70% of those swaps were performed by users.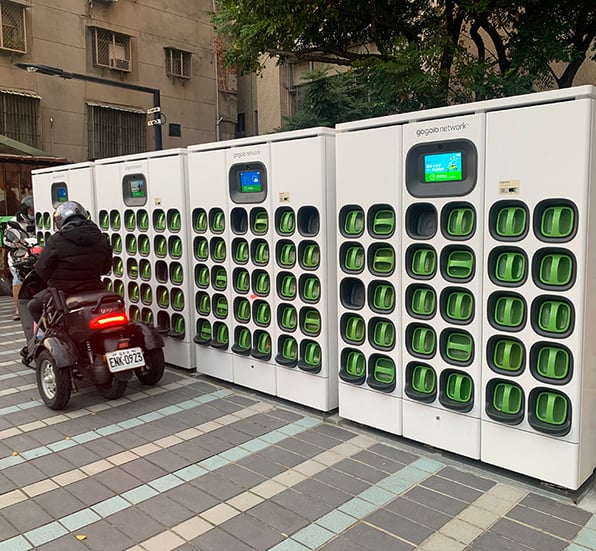 Standardization of battery and charging systems will help speed adoption as it will simplify life for the owner of any e-mobility vehicle. The interoperability of batteries removes a significant barrier. Gogoro's battery system is now used by five of the big seven moped manufacturers in Taiwan.
More recently, Honda, Yamaha, Piaggio, and KTM established a new European consortium to oversee the swappable battery development program in May 2021.
Rapid growth in e-mobility is expected to continue in Europe as anti-pollution regulations force gas and diesel motors, particularly two-stroke, out of existence. Emissions regulations are an important driver for electrification in all sectors. Since the inception of Euro 1 standards in 1992, allowable limits for Carbon Monoxide, Nitrogen Oxide, and Hydrocarbons have all been reduced by three to six times for most classes of vehicles. Euro 7 standards are expected to cut Carbon Monoxide emissions by a further 3 to 10 times and cut Nitrogen Oxide emissions in half. The European Green Deal aims for complete carbon neutrality by 2050.
In addition, 2019 regulations incentivized manufacturers to sell 15% ZLEVs (Zero or Low Emission Vehicles) by 2025 and 30% by 2030.
In the United States, EPA, NHTSA, and CARB regulations are being re-synced and made stricter as the Biden administration makes its mark. CAFE standards will have an impact on the deployment of electric mobility vehicles as a way to meet corporate standards.
Almost 200 countries worldwide have signed on to the Paris Climate Accord. The rapid expansion of e-mobility can greatly contribute to improvements in greenhouse gas emissions.
Continuous research is underway on advanced battery chemistries that will have greater power density and reduce reliance on several key elements needed in lithium battery production.
About Delta-Q Technologies and ZAPI GROUP
Delta-Q Technologies is charging the future and driving the world's transition into electric energy! We collaboratively design, test, and manufacture robust battery chargers that improve the performance of our customer's electric drive vehicles and industrial machines.
As the supplier of choice for Tier 1 OEMs, we use our values, perseverance, and engineering expertise to guide our customers through the electrification process for a sustainable world.
We're also part of the ZAPI GROUP, a global leader in electronic speed controllers and associated products for battery and hybrid-powered electric vehicles.
Headquartered in Vancouver, Canada, Delta-Q's team and distribution spans five continents to service industries such as electric golf cars, lift trucks, aerial work platforms, e-mobility, floor care machines, utility/recreational vehicles and new markets, like outdoor power equipment.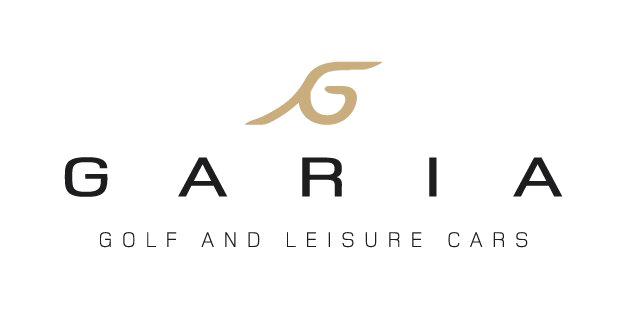 Some of our battery partners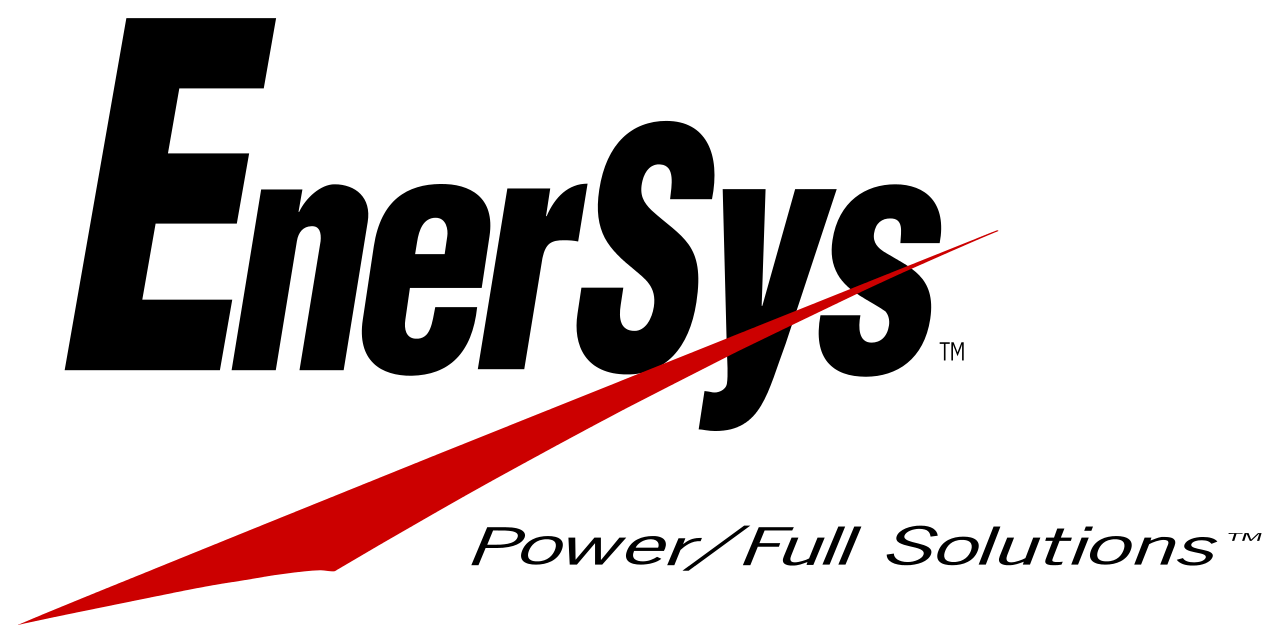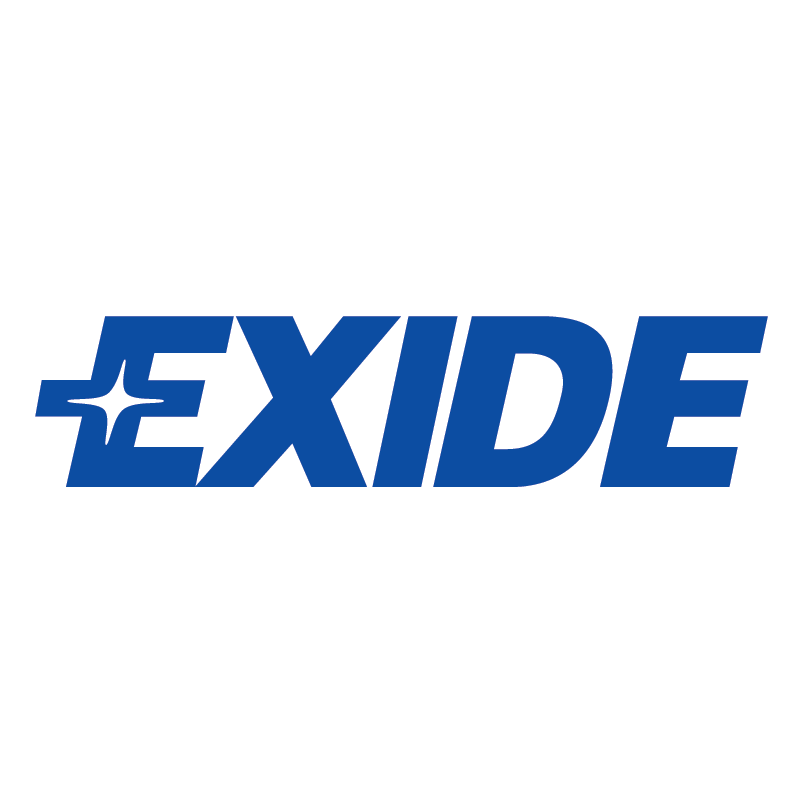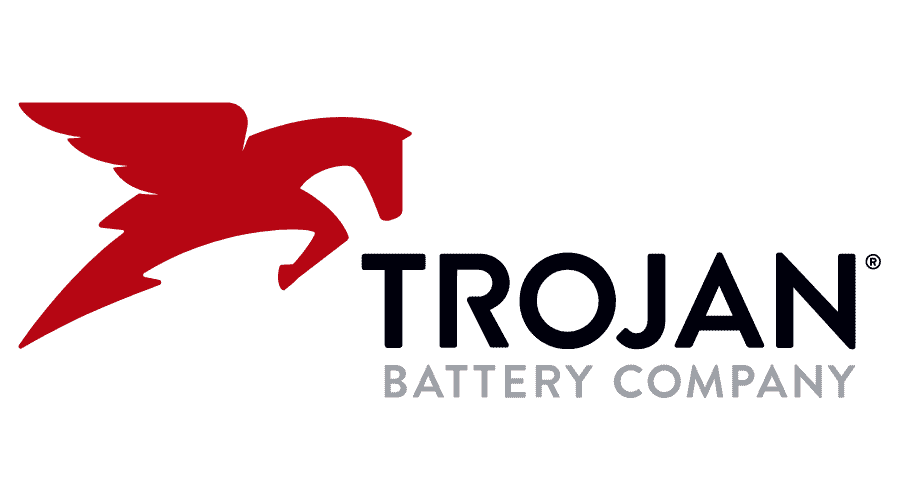 "Our partnership with Delta-Q Technologies has come with great success! We're pleased with the results and the positive responses from our customers since the integration of their chargers onto our NexSys® PURE batteries."
- Tim Wittig, General Manager, Motive Power Specialty Markets Americas, EnerSys